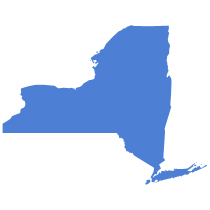 The unemployment insurance program provides benefits to individuals who have sufficient employment to establish a claim, have lost employment through no fault of their own, are ready, willing and able to work and are actively seeking work. If you have worked in New York State within the last eighteen months, you have the right to file a claim for benefits.
You must meet the qualifying conditions set by law in order to be eligible for benefits (see qualifying employment information in the above FAQ). You cannot receive unemployment benefits if you have less than the required work and wages to establish a claim.
Eligibility to benefits can only be determined once a claim has been filed and all of the required information has been obtained. Eligibility is determined based upon the New York State Unemployment Insurance Law and precedents of the Law as set by court decisions.
Eligibility Requirements
You may be eligible for benefits if:
You lost your job due to lack of work: the temporary or seasonal employment ended; your job was eliminated; there was an involuntary reduction in force; the company downsized or shutdown; the company restructured or reorganized, there was a lack of company operating funds/orders; or for any other business operating reason which resulted in your involuntary unemployment.
You were discharged or fired because you were unable to meet employer performance or production standards, or you were unable to meet employer's qualifications for the job.
You may be denied benefits if:
You were fired because your employer alleged that you violated a company policy, rule or procedure, such as absenteeism or insubordination; because of a disagreement or dispute with a boss or co-worker; or you were fired for any other reason.
You quit your job.
You are unemployed because of a work stoppage in the last 49 days which was conducted in violation of an existing collective bargaining agreement in the establishment in which you were employed. It is not necessary that you are actually participating in the strike, but only that you are not working because of the strike in the facility in which you worked.
https://ui.labor.state.ny.us/UBC/home.do
How Do I File For Unemployment Benefits?
File Online Here:   https://ui.labor.state.ny.us/UBC/home.do
You may file a claim between the hours of 7:30 am to 7:30 pm Monday through Thursday (Eastern Time), Friday, 7:30 am to 5:00 pm, all day Saturday, and Sunday until 7:00 pm.
You may claim benefits for last week between the hours of 7:30 am to midnight Sunday through Saturday.
New York State Department of Labor's (NYSDOL) website provides a safe, efficient way to file your claim for unemployment insurance benefits, claim your weekly benefits, or inquire about benefit payment status. NYSDOL is strongly committed to protecting your personal and employment information against unauthorized access, use, or disclosure.
Only the claimant is authorized to use this system. Allowing someone else to use this system is fraud on the part of the claimant and the user. You could lose up to 20 weeks of benefits if you allow another person to use your PIN or fraudulently claim for benefits.
If you are a person with a disability who is unable to access our services without the assistance of another person, you may allow another person to assist provided you are present each time the services are accessed including the entry of the PIN. You will be held accountable for the actions of your agent and may be subject to penalties including forfeiture of benefits if you are not present when your agent accesses our services.
The New York State Department of Labor does not discriminate in the delivery of its programs and services. Individuals with disabilities should advise our staff of any special needs.Hearing Impaired Individuals who have TTY/TDD (Telephone Device for the Deaf equipment) may file a claim by calling a relay operator at 1-800-662-1220 and requesting the relay operator to call the Telephone Claims Center at 1-888-783-1370. TTY/TDD users may request the relay operator to call 1-877-205-3119 to certify for weekly benefits. Only callers with TDD equipment will receive service at these numbers.
https://ui.labor.state.ny.us/UBC/home.do
Unemployment Office Contact Information
Address
New York State Department of Labor
P.O. Box 15130
Albany, NY 12212-5130
Website
https://ui.labor.state.ny.us/UBC/home.do
Phone Numbers
1 (888) 209-8124
Or
1 (877)358-5306