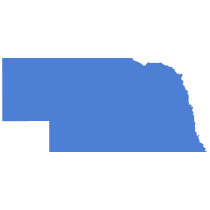 Find Out If You Are Eligible For Unemployment
Click this link to find out if you are eligible to file for unemployment:
Am I Eligible To Collect Unemployment Benefits?
Have Your Benefits Run Out?
Click this link to find out how to get an unemployment extension:
You must have worked for an employer subject to the payment of Unemployment insurance tax. Your employer should be able to advise you if they pay unemployment taxes or you may contact one of our Nebraska Claims Center offices.
To qualify for benefits you must meet the minimum monetary requirements of earning at least $2651.00 in the base period (first four of the last five completed calendar quarters, prior to when the claim is filed), with at least $800.00 in each of two separate base period calendar quarters. Example: If you file a claim in the first quarter (January,February or March) the base period would be the fourth quarter of the year before last and the first three quarters of last year.
In order to qualify to receive benefits, an individual must be able to work; be available for work; and if not returning in the near future to their former employer, actively seeking work each week.
https://uibenefits.nwd.ne.gov/BPSWeb/jsp/BPSClaimantWelcome.jsp
How do I file for unemployment benefits?
You are required to disclose your Social Security Number (SSN) in order to file for unemployment benefits and other workforce development services. Your Social Security Number will be shared with other agencies, as authorized by law. Please provide the following information.
*SSN :

– –
*First Name :

Middle Initial :

*Last Name :

Name Suffix :

*Date of Birth (MM/DD/YYYY) :

/ /
*City of Birth :

*Mother's Maiden Name :
In order to process your claim you must use a four digit Personal Identification Number (PIN). Your PIN and Social Security Number is your electronic signature. You are responsible for the security of your electronic signature and preventing it's disclosure to others. Any filings or other documents endorsed with your electronic signature shall be legally valid and enforceable. By using your electronic signature you are legally signing and validating all applications. If you understand this statement and agree to it, please create your four digit Personal Identification Number (PIN) now.
https://uibenefits.nwd.ne.gov/BPSWeb/bPSClaimantLogin.do
Unemployment Office Contact Information
TO FILE A NEW CLAIM OR REOPEN AN EXISTING CLAIM
Call (402)458-2500, Monday – Friday 8:00 AM – 5:00 PM Central Time
Deaf or Hard of Hearing (TTY): (402)471-0016