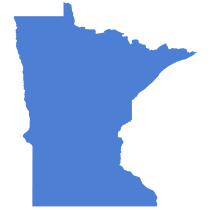 To be eligible for benefits for any week, you must be:
Able to work
You must be physically and mentally able to work. You must report any medical condition that prevents you from working or looking for work.
Available for suitable work
You must be ready and willing to accept work in your usual occupation or other suitable employment. You cannot be paid for any period you are traveling outside your commuting area, unless it is to look for work. You cannot have unreasonable restrictions on work hours, wage, commuting distance, or other conditions of employment you are willing to accept. In most cases, attending school full-time makes you unavailable to accept work, unless you are willing to quit school.
Actively seeking suitable work
You must actively look for work even if you have a part-time job or expect to return to a seasonal job. You must make a serious effort to find work every week.
http://www.uimn.org/ui/index.htm
How do I file for unemployment benefits?
Applying for unemployment insurance benefits can be done either online or by phone using the Applicant Self-Service System. This system allows the Minnesota Unemployment Insurance (UI) Program to efficiently manage hundreds of thousands of applications and requests for benefit payments even during the busiest times of the year and the busiest days of the week.
Applying for unemployment benefits, getting information about your unemployment account, making a request for benefit payment, or making changes to your account no longer requires you to drive to an office. All of these tasks can be done either online or by phone using the< Minnesota Unemployment Insurance Applicant Self-Service System.
http://www.uimn.org/ui/HowToApplyForUI.pdf
Contact Information
By Phone
Twin Cities area:
651-296-3644
Greater Minnesota:
1-877-898-9090
TTY-Teletypewriter for the deaf and hard of hearing:
1-866-814-1252
By Fax
651-205-4007
By Mail
UI Customer Service
P.O. Box 75576
St. Paul, MN 55175-0576
http://www.uimn.org/general/contact_us.htm