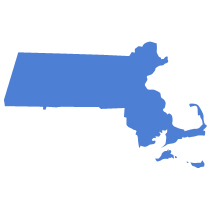 Most workers in Massachusetts are covered under law by the unemployment insurance program.
However, workers in the following categories are not eligible to collect benefits:
employees of churches and certain religious organizations;
worker trainees in a program administered by a non-profit or public institution;
real estate brokers or insurance agents who work on a commission basis only;
consultants working independently;
elected officials and those in policy-making and advisory positions;
and members of a legislative body, or the judiciary.
Generally, benefits are available for eligible workers who have become unemployed through no fault of their own, and who are able to work and are actively looking for a job. You must also have earned at least $3,500 during a specified period of time set by law.
How do I file for unemployment benefits?
Step1
Gather the following information required to file your claim: name, contact information, social security number, name and address of employers for last 15 months, date you started working with your last employer, date of final day of work with your last employer, driver's license number, bank account information for direct deposit.
Step2
You must first file an unemployment claim by calling the Massachusetts Office of Labor and Workforce TeleClaim Center at 1-877-626-6800 or you can visit an unemployment claim Walk-In Center in Massachusetts.
Step3
Once you have filed an initial claim, you can go to the Massachusetts Office of Labor and Workforce Development website and access the Unemployment Insurance Benefits online claims system at https://ipasssecurity.detma.org/ipass/loginnew.asp
https://ipasssecurity.detma.org/ipass/loginnew.asp
Contact Information
For customer service assistance for the following areas, please call the numbers listed:
New Extended UI benefits 888-998-8418
Unemployment claim status, general eligibility,
benefit checks, claim issues/adjudication
Expanded Hours: Monday to Friday 8:30am – 6:30pm,
Saturday 8:00am – 1:30pm 617-626-6800
877-626-6800
Workers' compensation claim status, eligibility, issues 617-727-4900
800-323-3249
Occupational safety and health programs, including lead, asbestos, employment agency, prevailing wage617-626-6975
Employer services (revenue services, contributions) 617-626-5075
Question regarding Labor Board or laws regarding employment (State Attorney General's Office) 617-727-3465
Unemployment check status 617-626-6563
Unemployment claim wages 617-626-5039
Unemployment tax withholding (Form 1099) 617-626-5647
Interstate (moved out-of-state) unemployment claim 617-626-6140
Training Opportunities Program/Section 30 617-626-5375
Career center services, job search assistance,
recruitment and hiring 617-626-5300
Apprentice training 617-626-5409
Medical Security Program 800-908-8801
Unemployment insurance problem resolution 617-626-5400
If You Need to Contact the Executive Office of Labor and Workforce Development or Specific Agencies:
Division of Unemployment Assistance
for questions and issues related to Unemployment Insurance
Charles F. Hurley Building
19 Staniford Street
Boston, MA 02114
Tel: 617-626-6560
(do not include confidential information such as your social security number in your email) webmaster@detma.org
Department of Industrial Accidents
for questions related to Workers' Compensation
600 Washington Street; 7th Floor
Boston, MA 02111
Tel: 617-727-4900; 1-800-323-3249
(only Workers' Compensation calls please)
Info2@dia.state.ma.us
Division of Career Services
for questions and issues related to job search assistance, career services, training and One-Stop Career Centers
Charles F. Hurley Building
19 Staniford Street
Boston, MA 02114
Tel: 617-626-5300
Email: DCSCustomerfeedback@detma.org
Division of Apprentice Training
for questions related to apprentice training, sponsorship and programs
Charles F. Hurley Building
19 Staniford Street
Boston, MA 02114
Tel: 617-626-5409
Department of Labor
for questions regarding Labor issues
1 Ashburton Place
Room 2112
Boston, MA 02108
Tel: 617-626-7100
Division of Occupational Safety
for questions regarding work place safety
19 Staniford Street, 2nd Floor
Boston, MA 02114
Tel: 617-626-6975
Fax: 617-626-6944
Executive Office of Labor and Workforce Development
for questions related to labor and workforce development, policies, workforce investment and other key issues:
One Ashburton Place
Suite 2112
Boston, MA 02108
Tel: 617-626-7122
TTY: 617-727-4404
Fax: 617-727-1090