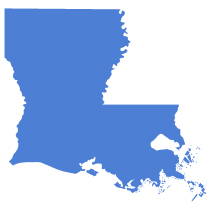 Eligibility Requirements
The law sets qualifying requirements in three main areas: your past wages, your job separation, and ongoing availability and work search requirements. You must meet all of the following qualifying requirements in order to receive benefits.
Past Wages
You must have earned enough wages in your base period. The base period is the first four of the last five completed calendar quarters before you filed your claim.
Reason for separation from your last work
You must be unemployed or partially unemployed through no fault of your own in order to receive benefits.
Ongoing availability and work search
You must be physically able and available to work. You must also be actively seeking work. If you are temporarily laid off and have a definite return-to-work date, your work search requirements may be waived.
http://www.laworks.net/FAQs/FAQ_UI_ClaimantBenefits.asp#answer_3
How do I file for unemployment benefits?
Before filing a claim, you will need to have the following information available:
Your Social Security Number.
The names, addresses, and phone numbers of all your employers for the last 18 months.
The name and local number of your union hall, if applicable.
Alien Registration Number, if applicable.

If you are unable to locate the above required information within the first week you are unemployed, contact the UI Call Center @ 1-866-783-5567. Delay in reporting will affect your benefits.

Warning: The last page of the Internet application will state that your claim has been completed and will give you a confirmation number. Unless you receive a confirmation number, your claim will not be processed.

https://laors.laworks.net/laclaims/claim/Index-Form.asp

Contact Information

Louisiana Workforce Commission Contacts

Louisiana Workforce Commission

1001 N. 23rd Street

Baton Rouge, LA 70802

Incumbent Worker Training Program

Incumbent Worker Training Program Unit

5615 Corporate Boulevard, Suite 300

Baton Rouge, LA 70808

iwtp@ldol.state.la.us

IWTP Regional Contacts (PDF)

Labor Market Information

Research and Statistics Division, LMI Unit

1001 North 23rd Street

Post Office Box 94094

Baton Rouge, LA 70804-9094

Fax: (225) 342-9192

oois@ldol.state.la.us

Media Relations

P.O. Box 94094

Baton Rouge, LA 70804

For media inquiries call (225) 342-3035

Fax: (225) 342-3743

Office of Workers' Compensation Administration

P.O. Box 94040

Baton Rouge, LA 70804-9040

Telephone: (225) 342-7555

Fax: (225) 342-5665

owca@ldol.state.la.us

OSHA Consultation

P.O. Box 94094

Baton Rouge, LA 70804-9094

Telephone: (225) 342-9601 or 800-201-2495

Fax: (225) 342-5158

For all of your Unemployment Insurance needs, contact the UI Call Center at 1-866-783-5567.

Chief of Tax Operations

P.O. Box 94186

Baton Rouge, LA 70804-9186

Telephone: (225) 342-2992

Office of Management Finance

UI Tax Accounting

P.O. Box 94100

Baton Rouge, LA 70804-9100

Telephone:(225) 342-2955

Fax: (225) 342-5822

UI Tax Liability and Adjudication

P.O. BOX 94186

Baton Rouge, LA 70804-9186

Telephone:(225) 342-2944

Fax: (225) 342-1943

Office of Unemployment Insurance Administration

Unemployment Claims Unit

P.O. Box 94094, Room 386

Baton Rouge, LA 70804-9096

Unemployment Insurance Administration DUA Unit

P.O. Box 94094

Baton Rouge, Louisiana 70804-9094

Employee Leasing Program

Tax Liability and Adjudication Unit

P.O. Box 94186

Baton Rouge, LA 70804-9186

Telephone: (225) 342-2942

Benefit Charge

Telephone: (225) 342-2977

Fax: (225) 219-0642

Delinquent Accounts

Telephone: (225) 342-2927

Fax: (225) 342-5965

http://www.laworks.net/PublicRelations/PR_Contacts.asp